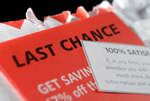 In order to save you time and make your mailings into Europe simpler and faster, STB Direct Marketing can source the correct mailing fulfillment supplier for your campaign and manage the whole project for you. It doesn't matter what your fulfillment requirements are:
catalogues into polywrapping
direct mail into an envelope or self mailiers
inkjetting or address labels
We have the experience and knowledge of all types. We can also advise on the optimal size of a mailing piece to enable you to take advantage of the most cost effective postal rates.
European and International Postal Rates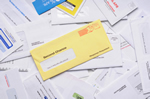 There are a range of mailing services available to companies carrying out Pan-European or International direct mail campaigns and STB Direct Marketing can advise and source the best service to meet the objectives for your marketing activity.
A priority service where speed is key
Economy service where low cost is important
A service where mail is delivered looking like a local campaign
Postal Optimisation
With the opening up of the postal market in the UK there are now a range of options available in terms of mail delivery, which can result in postal cost savings. Click here to find out more about how we can help you identify potential postal savings for UK mailings.
Case Study
Results:
Reduction from 12 mailing houses to one in the UK with cost savings of several thousand pounds and efficiency improvements for the client.

Project:
Sourcing one mailing house in the UK that could provide pan-European direct injection mailing.

Organisation Type:
Large multi-national organisation

Client situation:
Utilisation of a local mailing house in each country requiring a lot of management time. A need to reduce mailing costs.

Our Approach:
Identify the mailing houses based in the UK that could provide the pan-European service required. Create a specification for the tender project and manage the tender process. Analyse the existing costs and cost structure. Carry out quantitative and qualitative analysis of companies submitting tenders to create shortlist of companies to interviews.