Have you reached your full potential in the UK market and are looking for ways to acquire new customers? Are you considering expanding internationally into a new market(s)?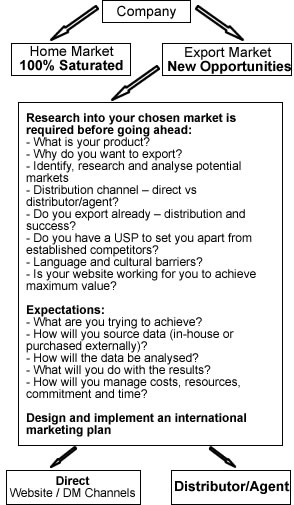 Economic research consistently shows that companies, who export in any financial climate, reap far greater rewards for their business than those companies wishing to focus solely on their home market. Explore the recent research on the business benefits of exporting.
Direct marketing is a cost-effective method of targeting new customers in international markets.
An easy and effective method for testing the market for your product in a new country before making any major investment.
It enables you to keep in touch with customers on a regular basis developing loyalty and ensuring customer retention
By using direct marketing you have the opportunity to send high-quality, effective marketing messages at the right time to clearly defined target groups.
Well-planned export marketing is a key success factor for exporting companies. Direct marketing is an effective and inexpensive way of reaching prospects as well as managing and developing customer relationships. STB can help you to deliver a marketing strategy that will drive revenue and profit as well as making the whole process simpler and more cost effective.
We also know the importance of communication when entering new markets so as to avoid unnecessary barriers and achieve greater effectiveness. This extends to cultural sensibilities and sensitivities too and not just knowledge of a foreign language. A lack of experience in other cultures can delay activity, and ultimately success!
With us working in partnership with you, you can be sure of a realistic and successful start to your international campaign. Call us today on +44 (0) 1509 670 567.